Homeowner 360°
Right time and Right price to sell your property?
Understanding your property finances can be a headache, let Homeowner 360° do the math for you so you don't have to.
Get started
Make an informed decision in

3 simple steps
Track your property value
Find out your property's estimated sale value and rental value using X-value
Estimate your sales proceeds
See how much actual cash will you receive after loans and CPF
Plan your progress
Evaluate your options with your available deposit and maximum bank loan
DEMO
Try it for free
FEATURES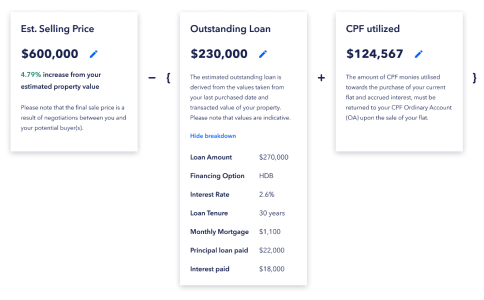 Customized for accuracy
Edit and adjust calculator inputs to obtain accurate estimates - fully customized to your property finances.
Have full visibility on the calculations
Get a detailed breakdowns of the calculations involved as well as the definitions of the terms used in the calculations.
Privacy assured
Unless you specifically opt-in, you will not receive any agent calls. Your contact details will not be transmitted to our partners without your authorization.
A property is your single largest financial decision. In Singapore, 42% of overall household assets are held in residential property. It affects how you accumulate wealth, raise your children, or even plan for retirement.

That's why it's so important to get this right.

Whether you're right-sizing or upgrading, get an unbiased report on what your property options are.
Get started
Frequently Asked Questions
Shortlist folder is empty
Search for listings to shortlist